Taste of Seoul
Traditional Korean food, made with various seasonal ingredients, are increasingly popular as part of a balanced diet around the world. Here are a few of the best Korean dishes available throughout Seoul. Salty, sweet, savoury, Seoul has it all! No trip to the South Korean capital is complete without a sampling of these delicious local dishes.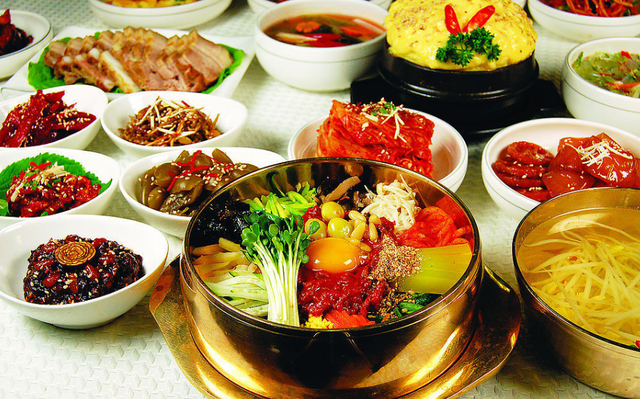 1. Traditional Dishes
Samgyupsal
Grilled pork belly barbecue

Thick slabs of juicy pork sizzle alongside onions, garlic and gochujang red-pepper paste, piled up to make this veritable Korean meat feast. The fat's left on the cut for an extra layer of flavour. Dedicated restaurants fill with jovial diners, who like to wash the dish down with a cool beer, or a swig of spirited soju.



GanJang GyeJang
Soy sauce marinated crab

Gejang or gejeot is a variety of jeotgal, salted fermented seafood in Korean cuisine, which is made by marinating fresh raw crabs either in ganjang (soy sauce) or in a sauce based on chili pepper powder. The term consists of the two words; ge, meaning "a crab", and jang which means "condiment" in Korean.



Galbi
Grilled ribs marinated in sauce

A spicy take on marinated beef, this poultry equivalent bowls diners over with its spice levels. Stir-fried until no liquid remains, the fiery marinade is completely absorbed by the meat for some flavoursome mouthfuls. Gochujang chilli paste provides the spice, while cabbage and sweet potato offer a calm contrast for the palate.
Dak-galbi
Spicy chicken stirred-fried with pepper paste

Dak galbi is a spicy stirred-fried chicken dish that is quite appetizing with intense flavors. All ingredients are stirred fried in a large pan placed in the center of the table. The chicken pieces are soft and juicy and needless to say, spicy as well. The cabbage is slightly crunchy to the bite, yet sweet, well-balancing out the spicy chicken. The mouth watering sauce covers every inch of the bite-size chicken bits and vegetables, blending everything into perfect harmony.

Samgyetang
Stewed chicken with rice, garlic ginseng and jujube

Samgyetang, sometimes called chicken ginseng soup, is an energizing soup-based dish. Commonly, a whole chicken is boiled in a broth with Korean ginseng, dried jujube fruits, garlic, ginger and glutinous rice. Spicy red chili pepper paste (gochujang) can be added to enrich its flavors and taste to one's preference. Like the chicken soup, which is considered to help common sickness, samgyetang is also known be cure physical ailments and prevent sickness as well.

Budae Jjigae
A wartime stew with international flavor

Invented when supplies were low after the Korean War, this soup is hearty and filling – and a veritable hotchpotch. It makes use of protein-packed provisions such as sliced sausage, ham and processed Spam meat, for some American flavour, before a Korean kick is added in the form of spicy kimchi lettuce, chilli paste and flakes — all blended with a good dose of garlic.


2. Rice & noodles
Bibimbap
A pot full of potent colours and flavours

Korean food prides itself on variety and bringing this together to form harmonious flavours. This deep dish sits atop steamed rice and sliced-up vegetables that conjure a spectrum of colour. Meat doused in garlic and soy sauce is often added. A whole fried egg is the crowning glory, while a generous helping of fiery gochujang paste adds real spice to the mix.

Gimbap
Seaweed rice rolls

Sushi-like circles of sticky rice are convenient, delicious and loved all over the country. A packed-lunch favourite, they're compact and filled with meat or fish, or simply a delightful rainbow of crunchy raw vegetables. A wash of sesame oil coats the seaweed before a roll is sliced into grab-able disks.



Ddeokbokki
A spicy rice helping to keep you going

Doughy fingers of cylinder-shaped rice cakes are fried with a blend of fish, chilli, onions and anchovies before being heaped into a bowl, or scooped up into a paper cup. Cheap and cheerful, this humble snack up is served up at street food stalls, together with a stick to help you retrieve the satisfying pieces within.


3. Snacks and appetizers
Haemul-pajeon
Seafood pancake with scallion and vegetables

Haemul-pajeon is a variety of jeon with scallion as its prominent ingredient, as pa means scallion. It is a Korean dish made from a batter of eggs, wheat flour, rice flour, scallions, and often other ingredients depending on the variety. Beef, pork, kimchi, shellfish, and other seafood are mostly used. If one of these ingredients, such as squid, dominates the jeon, the name will reflect that.



Sundae
A type of Korean sausage

Sundae is one of Korea's representative street foods, and it is compatible with tteokbokki. It is made by steaming pig's intestines that are stuffed with various ingredients such as glass noodles and pork blood to bring out the color and rich taste of this food. Each variety of sundae is named differently depending on the ingredient used to wrap sundae filling (squid sundae or sweet rice sundae) or on the region in which a sundae variety originates.

Makgeolli
A traditional rice wine

Makgeolli is listed as intangible cultural heritage and has been handed down from generation to generation. It boasts the longest history of Korean liquors. The brewing of Makgeolli begins with the heating of glutinous rice, non-glutinous rice, barley, and flour. After drying the mixture called jiaebap, nuruk (malt) and water are added and the resultant mixture is fermented at a constant temperature to get a blend of various tastes.
Kkultaraeyeot
A stringy and sweet Korean snack

Kkultaraeyeot is a kind of sweet snack made by stretching malt out into super thin strands. As a major street snack in Insa-dong, kkultaraeyeot is mixed with almond, cocoa, peanuts, and walnuts. The thin strands are made by hand. They are made into more than 16,384 strands, which are as thin as threads of silk. Nuts are wrapped within these strands. Kkultaraeyeot is called Yongsuyeom, which means a dragon's beard.

Kimchi
A condiment that collides with the taste buds

Kimchi has become the icon of Korean cuisine, as well as Korean culture. It is made of salted cabbage or radish, which is seasoned with chili powder, green onion, and garlic and then fermented. It is a vibrant vegetable platter that adds variety to any dish. Kimchi is good for preventing cancer and the hardening of the arteries, as well as helping you to stay in good shape and have smooth skin.



Hotteok
A souped-up pancake burst with sweetness

Hotteok is a unique Korean snack that is made with a wheat dough filled with dark brown sugar, cinnamon, sesame, and chopped peanuts. The filled dough is griddled and flattened into a large circle. Press the dough with a Hotteok press just enough to get a nice golden crust, flip to the other side until the dough is cooked. Crispy on the outside, soft on the inside, they're the perfect combination of textures and flavours.